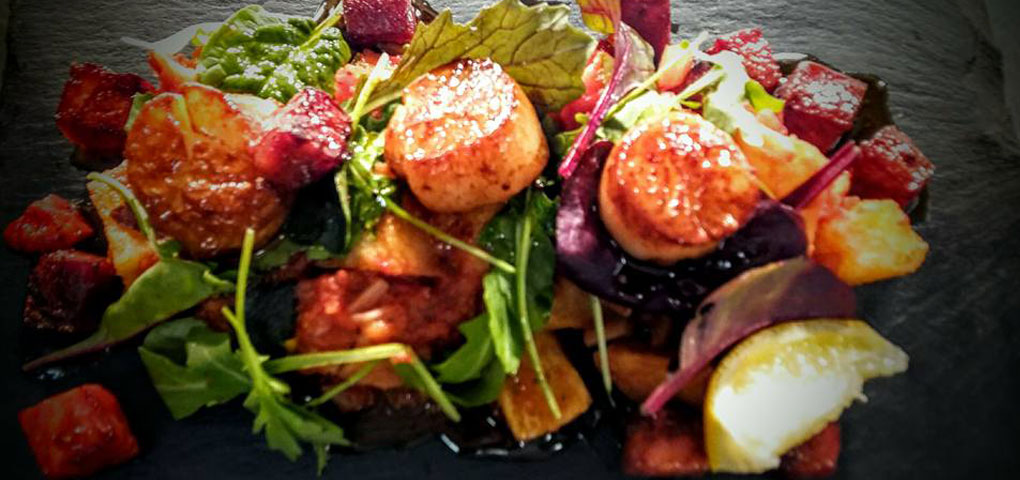 OUR TAKE AWAY SERVICE WILL BE SUSPENDED UNTIL FURTHER NOTICE!
STAY SAFE EVERYONE !!!!
Well this is strange!!!!!
Until all this craziness goes away we'll just be trading as a Take Away for all you lovely people!
Food menus below
If you bring a clean, container you can also take home any draft product.
Lager ( Heineken, Peroni or Estrella), Cider ( Robinsons or Thatchers Gold) or Guinness all £2.50 per pint.
Or
Bitter ( HPA or Butty Bach) £2 per pint
Bottles of house wine are all £13 a bottle ( Merlot, Shiraz, Sauvignon  Blanc, Pinot or Zinfandell Rose)
All available from 5pm til 9pm every evening.
You can collect your food and drink at our front porch door (no need to leave your car)  and pay by card or cash…hand sanitiser available!
Give us a call to order on 01886 899 064.
Additional Take Away Menu 2020
  FOOD & DRINK AT THE MASONS ARMS  
The Masons Arms is one of Worcestershire's premiere country pubs and restaurants, serving homemade British classics with a European twist, including our immensely popular tapas menu.
 Whether you fancy grazing with tapas, sharing some bar snacks or dining for a special occasion, The Masons Arms has a varied choice of quality food & drink to suit all tastes.
Provenance and use of local suppliers ensures that ingredients in our dishes are fresh and totally traceable. Due to this we have become a favourite for steak lovers with our popular grass fed Fillets, Sirloins and Rib eyes & hung by us for the tenderest & tastiest dry aged steaks around.
Our menus
From Al a carté to take away, we pride ourselves in offering a range of menus to suit all tastes and occasions. Whether it's a quick bite for lunch or three courses to celebrate a special occasion. Our ethos is simple, eating & drinking out should not cost the earth & should never compromise on quality. We have special Senior and children's menus and offer a great takeaway menu for those who live locally which also help keep the Masons Arms an important part of the community.
Ales, beers & Ciders
The ever popular Robinsons Cider from Tenbury
Wye Valley Herefordshire Pale Ale
Wye Valley Butty Bach
61 Deep
Oldfields Berry cider
Thatchers Gold
Carling
Estrella
Heineken
Peroni
Guinness
Alcohol free lager
Budweiser
Corona
Wines
Exclusive & extensive wine list from local wine merchants, Juckes of Ombersley.
Our House selection includes:
Marcel Martin Merlot, France
Grey Gable Shiraz, South Africa
Twisted House Zinfandel Rose, USA
Maraquita Sauvignon Blanc, Chile
La Riva Pino Grigio, Italy
Our A La Carte Selection:
Crisp & fresh San Perito Chardonnay, Argentina
Powerful Zonda Malbec, Argentina
Delicate Les Fondettes Sancerre, France
Classic Old World French Red; Riveara Pinot Noir & Fleurie Beujalais
Oak Aged Bovier & Fils Chablis 1er Cru, France
Spanish Don Placero Red Rioja to compliment our Tapas menu
Sublime Aroha Bay Sauvignon Blanc, New Zealand
  
WE USE LOCAL PRODUCE  
Provenance and use of local suppliers ensures that ingredients in our dishes are fresh and totally traceable.
GET IN TOUCH AND BOOK
YOUR TABLE TODAY
  WEEKLY NIGHTLY EVENTS  
OUR FAMOUS PIZZA NIGHT
-Every Thursday 5pm-9.30pm- Tap for more info
JOIN US & ENJOY
Enjoy one of our
Homemade 12″ stone baked Margherita Pizza's
For only £5. 00
MEET FOR MEAT NIGHT
-Every Tuesday 5pm-9.30pm- Tap for more info
JOIN US & ENJOY
 Any two grassfed 10oz Sirloins or 10oz Ribeyes & a bottle of house wine.
For only £45.00
FABULOUS RANGE OF GINS
-All served in a gin goblet with a Fever Tree Tonic, what else?- Tap for more info
WHITLEY NEIL, TANQUERAY, BOMBAY SAPHIRE, HENDRICK'S & CHASE TO NAME BUT A FEW